More news!
Hello everyone, it's another snowy day here in Vermont, and I'm writing to all of you from the snug confines of my lab at school. The rats are about to go into the operant chambers, but for now are comfortably stashed in their home cages, awaiting my reappearance.
You may have noticed a few new things on the site! At the very bottom of the page I've put in a hit counter and a link to the beemaster's webring, of which we are now a part. Unfortunately, when I put in the counter it had to start over from zero, so it has only counted the hits from a few days ago to present. There is also a site meter at the bottom of the page, which Rob put in. Pretty cool. I think we're starting to get the hang of this stuff.
I've also learned to wrap text around our pictures, with the help of our friend Toni, of CityBees. The HTML is a new thing for me, so if for some reason the formatting is a little off in any of my posts, bear with me, and rest assured I'm fixing it. There is a lot of stuff we will be adding soon - hopefully more links to great sites, friends of ours, and our favorite resources that will hopefully interest a great deal of yall. In addition, we promise pictures so that you won't get bored. Pictures, everyone!
So, on to the breaking news.
A while back we got the nuc receipts in the mail from the gentleman selling us the 2 colonies of Carnolians. The instructions on getting to his house, what to do with pickup, etc. were very clear, but the date for the bees arrival was not specified. Well as it turns out, when I called the apiary a few days ago, they aren't expecting to get them back (they were overwintering in South Carolina, my old stomping grounds!) for another few weeks, and THEN they are guessing on when the Vermont inspector is going to come by to check everything out before we get them. As it stands, they are predicting the first 2 weeks of May. MAY?!?!?! Foiled again!
Better news is here though. Rob got a call from another local who had wait-listed us for a nuc of Russians. I am very excited to try these bees, as I have heard many good things about them, and I am only really used to the Italians. Rob put us in an order for the Russkies in addition to the Carni's. So, at the moment we are currently looking at three hives - 2 Carnolians (one will be placed on his parents' property), and one Russian. In the backyard will be a Carnolian and the Russian. Now we don't have to requeen to get Russian stock! It will be interesting to compare the two subspecies this summer, and getting nucs rather than packages means the girls are already jumpstarted for production. Now, if we can just get them on the property (and get rid of this blasted snow).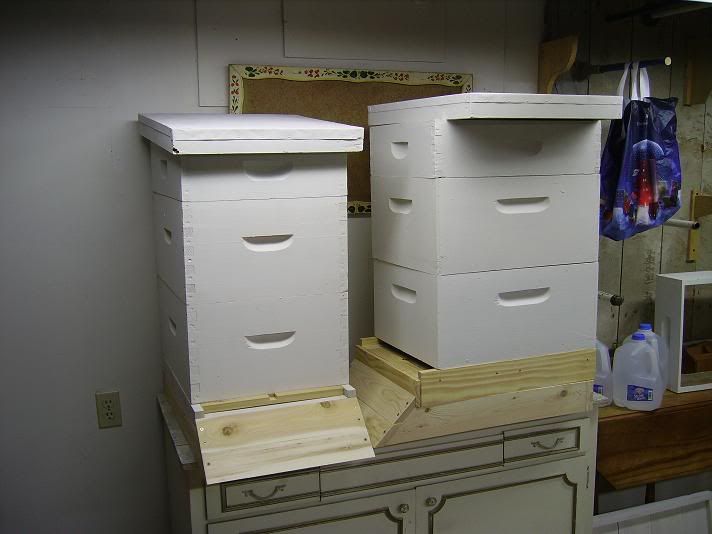 The hives are fully assembled and sitting in Rob's basement, awaiting the arrival of our bees. Rob's mom has offered to pay for the third hive's equipment, since we will be putting one of the Carni nucs on his parents' property. Seeing as how we will now apparently be getting the bees a little later than expected, we'll have a little bit of time to order and put together the parts to the third hive as well. Unfortunately this means we'll have to drive over to their place to check on our bees, but luckily they live pretty close and everyone is enthusiastic about having them over there. We'd just rather not overload the backyard (or ourselves!) with bees until we see how this first season goes. Three hives is plenty for the first year. But the Russians were a necessity!
The low hive table has been built and is situated here beneath the bay window of the guest house. It's a good location - dappled light, facing the morning sun, near good water sources, faced away from the neighbors, and in a relatively discreet location. The grounded area you see in front of the wooden table is going to be seeded with nice looking herbs and ground cover, and flowering plants. We're still currently planning what plants to place here, so any advice would certainly be welcome in the meantime! We're also going to extend the gutter so that rain/snow doesn't constantly splash onto the hives, and we're debating commissioning a friend to build some removable sloped snow roofs for the hives' outer covers before winter rolls around again.
The house is also situated .25 a mile from the University of Vermont organic orchards (apples!), and right next to the Vermont Commons school, just a brief skip down the street from the backyard. Prime real estate for foraging!
We're hoping our bees will get here before the apple flow stops, though we certainly aren't worried that they'll encounter any foraging problems. But would sure help get them started!